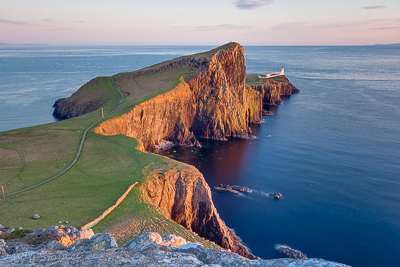 Neist Point and Lighthouse.
The most Westerly point on the Isle of Skye, giving excellent views over Moonen Bay to Waterstein Head (pictured) and out over the Minch to the Western Isles.
The point is regarded as the best place on Skye to see whales, dolphins, porpoises and basking shark. The sea around the point is teeming with sea-birds including gannets, black guillemots, razorbills and shags.
The causeway at the tip of Neist Point is home to several species of rare and unusual plant, including alpine plants such as saxifrages.
The sheltered bays of Neist Point are also excellent places to fish, with fourteen species of fish being caught in Moonen Bay.
A furore erupted in 2002 when a former owner of the Lighthouse Cottages installed a toll booth at the Neist Point Car Park and began charging for access to the Point. After a concerted campaign by locals, the illegal charging stopped and the cottages were sold on.
The Lighthouse Cottages, together with the small enclosed area around them, are now owned by Jane Corfield. Despite there still being old signage indicating that accommodation is available in the lighthouse cottages, they are no longer let to tourists.
The remainder of the land on Neist Point forms part of the common grazings for the township of Waterstein and each of five crofts at Waterstein owns a share, with souming (grazing rights) for 1 horse, 4 cows and 30 sheep.
Neist Point was used as the dramatic setting for a number of scenes in the movie Breaking The Waves in 1996, starring Emily Watson. A mock cemetery was constructed for the scenes, which remained for several years afterwards.
More recently, scenes for the movie, 47 Ronin, starring Keanu Reeves, were filmed on the headland at Neist in October 2012.
In the spring of 2013, planning permission was granted to convert the garages at Neist Point Car Park into a shop but, as yet, no work has been started on this.
Visitors should be very cautious when approaching the edges of the cliffs. In June 2013, a tourist tragically fell 100 feet to her death from the cliff in the first bay at the bottom of the steps leading down from the car park.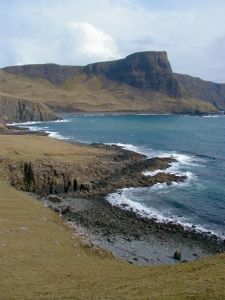 Waterstein Head & Moonen Bay.