Gannets
Gannets are very common in Glendale and they can be seen daily, diving close to the shore and Pier in Loch Pooltiel, between April and October.
It is a spectacular sight to watch them plunging head-first into the water from great heights on the long Summer evenings.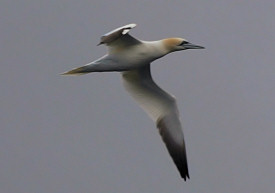 Gannet in Loch Pooltiel.
Skuas
Great Skuas, commonly known as 'bonxies', and the daintier Arctic Skuas are now being seen regularly at Neist Point between May and September. Bonxies also regularly come into Loch Pooltiel to harass the gulls.
Shearwaters
Manx Shearwaters feed in huge numbers off Neist Point in late Summer.
Recent Bird Sightings
26th Nov 2023
The long-staying magpie was in the garden at 2 Lower Milovaig, mid afternoon. The female blackcap is still coming to the fatball feeders there.
23rd Nov 2023
A male merlin flew through the garden at 2 Lower Milovaig, mid-morning.
21st Nov 2023
There were four adult white-tailed eagles interacting and being very vocal over Neist Point car park at mid-day. A great northern diver went south past Neist Point in the morning and there was a late gannet off-shore.
More recent wildlife sightings