Otters are often seen around Glendale on the Isle of Skye, and Milovaig is one of the best places to watch them, fishing in the clear blue waters of Loch Pooltiel.
They are exceptionally well camouflaged and, quite literally, become 'invisible' as soon as they come ashore.
The best place to watch for them is from the B884 between Meanish Pier and Andy & Alison's Cottage at 2 Lower Milovaig. Stay on the road, as this gives an excellent vantage point over the shore, skerries and pier that are their favourite haunts.
The best time to look for them is when the tide is half way, coming in, and at dawn/dusk. The water must be flat calm for you to pick them out, so don't bother looking on windy days. They don't like disturbance, so you will be lucky to see them if there are people on the shore, at the Pier or boating on the water. Binoculars are essential.
Look for wakes and ripples on the surface of the Loch, the majority of these will be caused by shags and grey seals but the otter leaps slightly out of the water when it dives and raises its distinctive spiked tail.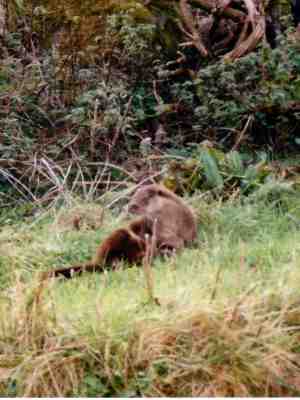 Otter in a Milovaig Garden. ©2004 Bruce Menzies
Once you have located the otters, it is usually possible to watch them for an hour or more. They hunt over a very wide area and will often swim out into the middle of Loch Pooltiel. We regularly see them swim several hundred yards out to sea off the Pier.
Their main prey are fish and sea urchins but we have seen them eat guillemots. Their larger catches are brought onto the rocks for consumption, often very close to the road, giving excellent, if rather gory, views.
They also range quite widely inland over the crofts and gardens around Milovaig. The photographs on this page were taken at Andy & Alison's Cottage in October 2003 by Susan Crichton and Bruce Menzies from Dundee, who had fantastic views of an otter that was actually playing in the garden.
Inland, the otters become a different animal. They often run from the shore to the top of the Yellow Hill and, when they run like this, they have the speed and grace of felines; like big black cats (pumas), not the ungainly shuffle they exhibit at the shoreline. There is no doubt that it is otters that get mistaken for 'beasts of the moor'.
They can be very playful and, when the fishermen have left the pier, we often see them scampering around amongst the ropes and creels on the slipway, even climbing up and down the Pier steps.
For regular updates on the very latest otter sightings in Glendale visit our Wildlife Sightings Page.