December and January are excellent months for watching sea eagles. They are very noticeable at this time of year as they begin displaying, pairing up and establishing their territories for the coming year.
Winter is 'quiet' season on Skye. The roads and tourist hotspots are deserted, the mountains are capped with snow and the crisp, clear days provide unrivalled photo opportunities.
Interesting seabirds have a habit of visiting Loch Pooltiel throughout the winter months, including all 3 species of Diver, Slavonian Grebe and Red Breasted Merganser.
In Winter the red deer come down from the hills and magnificent stags can often be seen beside the roads.
The winter months are the best time for watching Otters.
By February, Spring is already in the air and the seabirds return to their nesting ledges at Neist Point.,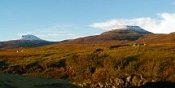 MacLeod's Tables under Snow