For centuries the Islanders used water power to mill their staple diet of oatmeal and flour. This was one of the many built by the Lairds to sell their flour to local people. The Lairds had outlawed the ownership of domestic querns in order to protect their market.
Inside the Glendale Watermill.
The watermill is owned by Glendale Estate.
In the 1970s, the mill was fully restored and equipped with hand-made reproduction machinery. It was driven by a magnificent overshot water wheel, the only one of its kind in Scotland.
In its opening year it attracted over 16,000 visitors but, sadly, it was neglected for many years and the thatched roof finally collapsed into the building at the end 2009.
The watermill has since had a metal roof fitted and all of the plywood mill equipment has been removed.
The door is still open for visitors to look around inside but take a torch.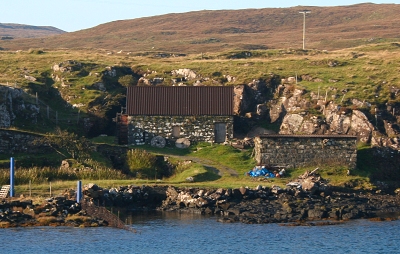 Glendale Watermill Today.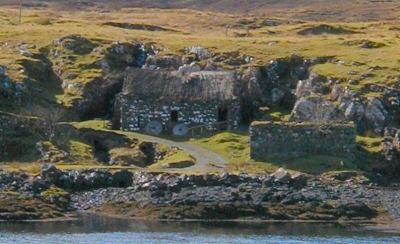 Glendale Watermill in 2002.