Welcome to our guide to the very best things to see and do in Glendale on the extreme North-Western corner of the beautiful Isle of Skye.
Glendale is an 18,956 acre estate that extends from Neist Point in the West, to Loch Pooltiel in the North, to Loch Dunvegan in the East. To the South it covers vast acres of moorland, skirting the slopes of MacLeod's Tables and extending almost down to MacLeod's Maidens at Idrigill.
The name 'Glendale' is the anglicised version of its gaelic name, Gleann Dail, which means 'valley with level fields by a river'.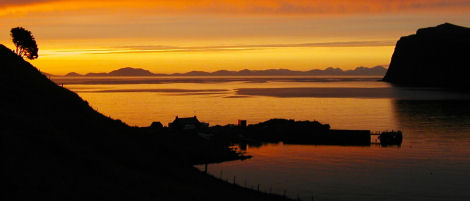 Glendale experiences the most incredible sunsets in June.
The steep cliffs of Glendale are home to thousands of seabirds and this area is undoubtedly the best place on Skye for seeing whales, dolphins, porpoises and basking shark.
Seals bask on the skerries in Loch Pooltiel and Loch Dunvegan at low tide. Otters can be seen fishing for sea urchins.
Sea eagles, golden eagles, buzzards, merlins and kestrels all nest nearby.
Glendale is renowned for its striking displays of wild flowers, with meadows carpetted with bluebells, orchids, violets and primroses.
Read More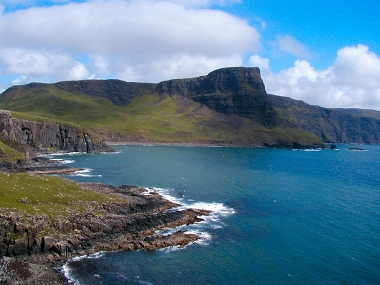 Waterstein Head and Moonen Bay from Neist Point
There is a beautiful, clean beach of black, volcanic sand at the head of Loch Pooltiel, the perfect place for a picnic.
This is a very peaceful and unspoiled corner of Skye that makes an excellent base for walking, fishing, birdwatching, cycling, climbing and diving holidays.
The scenery is quite simply breath-taking all year round.