MacLeod's Tables, as viewed from Ullinish.
These impressive flat-topped mountains, Healabhal Beag (1601 ft) and Healabhal Mor (1538 ft), rise in gentle contrast to the jagged peaks of the Black Cuillins and stand at the Eastern boundary of the Glendale Estate.
For those keen on walking, the summit of Healabhal Beag (MacLeod's Table South) can be reached in 2.5 hours from Orbost. The climb is exhilarating and the views from the summit of Healabhal Beag are breath-taking.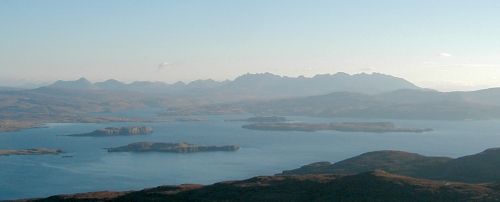 The Cuillins & Loch Bharscavaig from the Summit of Healabhal Beag.
According to legend, the flat summits were created after the visit of Saint Columba to the island. He was not well received by the Chief, who at this time lived in a Dun on the shores of Loch Bracadale, and was refused any hospitality.
St. Columba was invited to preach a sermon in the local church and chose as his theme: "The rabbits have their warrens, the birds have their nests but the messenger of the Lord has nowhere to lay his head".
During the sermon, the skies blackened and the ground shook, culminating in an almighty crash. On leaving the church, the congregation discovered that the tops of the two local mountains had been struck off, creating a bed for St. Columba to sleep on and a table for him to dine at.