A cliff-top walk from a deserted village beside Galtrigill to the trig-point on the summit of the cliff of the sky. 4 miles. 4-5 hours.
Getting There
From Milovaig, drive back through Glendale village and out of the glen, towards Dunvegan. Take the left-hand turn just before you get to "Skye Silver". Follow the road until it ends, in a large turning area, at Galtrigill. Park in the turning area, being careful to allow room for lorries to turn.
The Walk
Around the parking area at Galtrigill, you will see the remains of a deserted village, which is remarkably well preserved. Between this point and Loch Dunvegan lies the Manners Stone, which is said to instil good manners in those who sit upon it
Head for the burn that flows along the side of the 'village' into Loch Dunvegan and you will see a personnel gate in the fence. Go through the gate, ford the burn and climb up the opposite bank until you can see the summit of Biod An Athair up ahead.
There is no real path to the summit and the going is quite tough over the heather moor. The best course is to aim to the right of Biod An Athair, to a point mid-way between the summit and Loch Dunvegan, and use the many sheep tracks that head in that direction.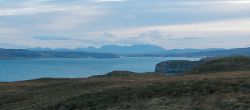 The Cuillins from Dunvegan Head.
Once you reach the seaward side of Dunvegan Head, the going becomes much easier, and it is just a short walk to the summit Trig Point. Keep a lookout for Golden Eagles, which patrol the hill-sides and cliff-tops.
The views from the Trig Point are magnificent, with the Cuillins and MacLeod's Tables behind, Neist and Milovaig on the Left, the Western Isles ahead and Waternish to the right. Those with a stern constitution may like to lay on the dyke at the summit and peer down to the sea over 1000 feet below.
Biod An Athair, means 'Cliff of the Sky' and you really do feel as though you are on top of the World at the summit.
For the return journey, follow the cliff-top along the seaward side of Dunvegan Head and then back along the side of Loch Dunvegan. This gives opportunity to view a fine natural arch and the remains of a prehistoric settlement of 'Bee-Hive' dwellings.